What's in a name? The rhetorical question first posed by Juliet Capulet in the classic Shakespearean tragedy is on our minds again. An Asian-fusion restaurant in California that recently joined forces with Whole Foods has ignited a firestorm of criticism—especially on Twitter. Vocal critics accuse the provocatively named "Yellow Fever" restaurant of being inarguably racist at worst, and maybe more than a little tacky at best.
Founder and chef Kelly Kim claims that she chose the name because she wanted something catchy—and perhaps, as a Korean American herself, manage to re-appropriate the name to something less stereotyping of Asians. But that raises the question: Is it possible to put a positive spin on a phrase that's almost exclusively pejorative?
Los Angeles-based civil rights advocate Karin Wang doesn't seem to think so. As she explained in this New York Times article:
"As an Asian-American woman, I look at the term, and it's either a terrible disease you get in tropical countries or it's an offensive concept of white men pursuing Asian women based purely on their race. I don't know what's worth reclaiming about that."
Of course, regardless of the inherent connotations, naming a restaurant is really hard.
Back in 2010, restaurateur Bruce Buschel chronicled the arduous task of coming up with the right name for his seafood place in a New York Times business blog titled, "Stick a Fork in the Name Game":
"A name should not turn off a potential diner. I liked Tarragon until two people at the same dinner said they hated the smell and taste of the herb.
Judge the real thing, not the name, for names, in the end, matter little. Once you have experienced a restaurant, that is what remains in your memory bank, and draws you back or keeps you away."
I experienced this bit of wisdom firsthand just now when trying—and failing—to recall the name of a local restaurant without the help of a Google search (remembering it simply and viscerally as "that bad ramen place").
Should a restaurant be less successful if it has an unappealing name? Is a bad name forgivable if it's memorable?
What are your thoughts on the bad-name phenomenon?
Even if you get your foodie fix from a poorly named establishment, have a great weekend full of good taste and great company!
Happy Foodie Friday!
And, of course, for something a little weird…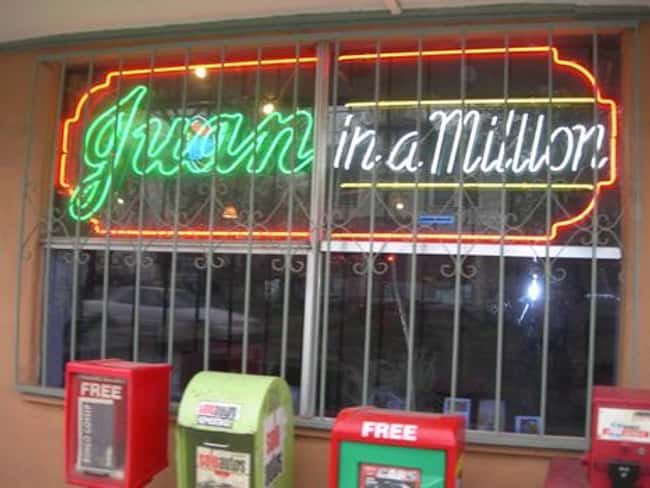 For more examples of groan-worthy monikers, check out this list of pun-based restaurant names. Who wouldn't want to dine at a place that's "Juan in a Million"?